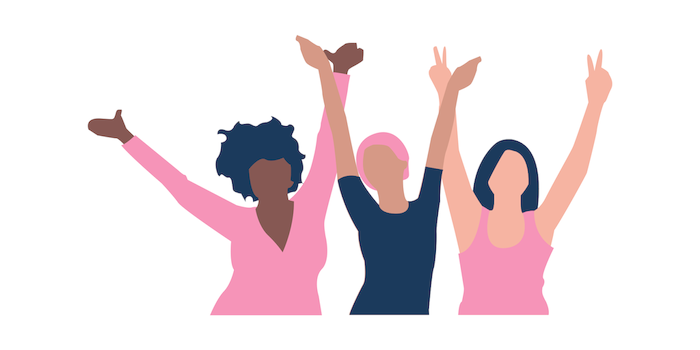 10 GEMS FROM THE DIGITAL WOMEN EVENT 2019
Digital Women is an online/real-life community, created by digital guru Lucy Hall, with the aim of empowering 1 million women through digital skills.
The first Digital Women Live event took place on 11 March, 2019, in London, and saw 250 people fill the NatWest Conference Centre for a full day of talks and workshops – and leave armed with big smiles, new-found knowledge and loadsa new LinkedIn contacts.
Here are my favourite takeouts from the event:
THE THING WITH JOHN…
'There are more men called John sitting on corporate boards than there are women' – Liz Norton, Business trainer and speaker
Depressing but together we can change it, right??
THE INSTAGRAM RULE OF 6
2 in 3 people who visit your Instagram page aren't followers. Therefore, your first SIX instagram posts need to be Totally On Point. 'Think about what those first six posts convey, what do they say about you and your business?' Lucia Banjo, Facebook Account Strategist
HASHTAG SELF-CARE
Practise self care. 'Don't work around the clock, don't burn yourself out. Having time to look after yourself is vital. An hour meditating or even an hour sitting on the sofa is time well spent.' Amy McManus, MD of AM Marketing
SAY HI TO A.I.
Don't be afraid of AI. 'Think of it as Augmented Intelligence with a human heart. It has the potential to be a game changer and can help with everything from gang warfare and discrimination to cancer diagnoses' Katie King, CEO of AI In Marketing and TEDx speaker
SEO RULE OF 4
The number of SEO components to focus on in your biz: Technical integrity, on-page content, keywords, and brand & trust. Rebecca Carey, Outreach and Content Lead at Found
SWEET 14
'If you're running your own business… Don't over-service, don't under-value your services, don't say yes to everything, invoice right away with 14-day payment terms' Becky Simms, Founder, Reflect Digital
60,000
'The amount of times faster you process an image over copy on social media'. Give yourself a head start by downloading pic and video apps, Snapseed and MoShow. Amber Vellacott, Senior Brand & Marketing Executive, Giant Campus and Sleeping Giant Media
LIGHTS, CAMERA, ACTION
Buy a ring light and get yourself on camera. 'Video accounts for 81% of all online content. If you're not strutting your stuff on social, you're not visible' Lucy Griffiths, Video strategist and entrepreneur trainer
RULES OF ENGAGEMENT
'Engage. Engage. Engage. Share more of the content you know works. Show an interest in your community. Join Twitter chats. Engage with your audience's content. Go live.' Nicola Osborne, Social Media, founder of Lollipop Social
BE AUTHENTIC
Have fun. 'Have a vision, work hard, make friends, be kind, have fun and be authentic because women are amazing together' Katie King
With women only making up 21% of the Digital Marketing industry, events like these couldn't be more vital and timely – so if you fancy joining the Digital Women group and helping it reach its million members aim, head to the Facebook page here: https://www.facebook.com/groups/digitalwomens/